Acupuncture and Rehabilitation from the Veterinary Hospital you love and trust!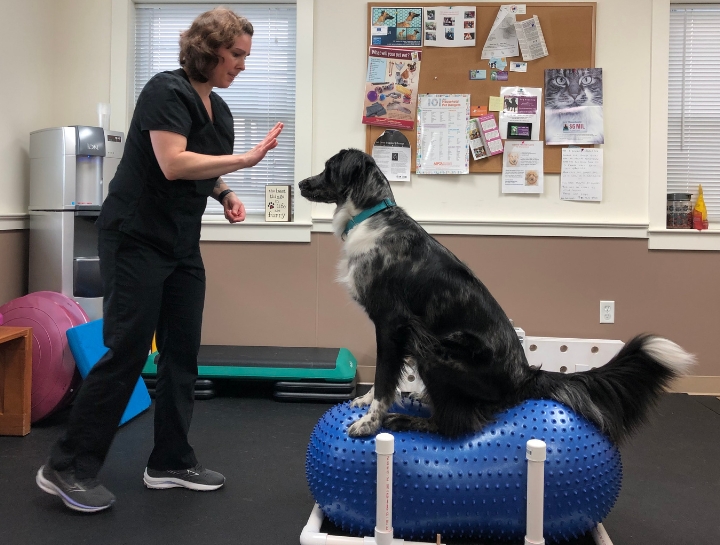 June 6, 2023
Parkway Veterinary Hospital now offers acupuncture and canine rehabilitation services!
Dr. Lauren Zepernick received her certification in veterinary acupuncture from Chi University in Florida in 2016. Since becoming certified, she has used acupuncture to treat a wide variety of conditions including arthritis, neurologic disorders, behavior issues (anxiety), gastrointestinal disease, chronic cough due to asthma/bronchitis, and symptoms related to cancer and its treatment.
Here is what Piney Kesting, Emma's mom had to say about the impact of acupuncture on Emma's quality of life:
It was over a year ago when I noticed that our 11-and-a-half-year-old lab Emma was having trouble walking. It was as if she couldn't coordinate the movements of her legs and her back right leg would frequently slip into the left as if she couldn't stand on it properly anymore. Our vet Dr. Zepernick is also a certified acupuncturist and we decided to see if that would help Emma.
Emma was a bit nervous at the first treatment but fairly quickly relaxed as the tiny needles were inserted while classical music played in the background. I hoped for some relief from her problem walking but was shocked when she got up the next morning and walked normally again! Her back leg also stopped slipping and that lasted for several weeks. Emma is clearly a poster dog for successful acupuncture! I continue to take her two times a month. She now walks in happily for her appointments and it is clear to me that she understands this is something that helps her. She is now almost 13 and is a happy dog who can almost keep up with her 6-year-old lab brother! We are deeply grateful for Dr. Zepernick's treatments and recommend them highly.
Dr. Zepernick is now also seeing physical rehabilitation appointments. She is joined by AnnieJoy, who is a certified veterinary technician (CVT) and certified canine rehabilitation practitioner (CCRP). We are currently offering therapeutic land exercises that can help improve strength and balance, as well as therapeutic laser treatment to help decrease pain and inflammation associated with arthritis or injury.
Rehabilitation can be used to help patients return to function faster following orthopedic surgery and can help arthritic patients maintain their strength and mobility. It is an effective, non-invasive way to reduce pain and improve function.
For more information about these services, or to book an appointment, please give us a call at (617) 469-8400.